4 Reasons To Hire A Safari Van For Your Murchison Falls Tour
Safaris in Uganda are extremely comfortable and memorable with a family or a bunch of friends with a mutual attachment connecting each individual to another especially while in the famous Murchison falls national park which is the oldest park in Uganda created in 1952 and the largest covering 3,840 square kilometers northwest of Kampala at the shores of Lake Albert stretching inland with the historic River Nile bisecting it into the northern and southern sectors. To answer the question of how you would get your family or friends to Murchison falls national park in one vehicle without a hassle, we at Tristar Africa Skimmer Safaris recommend you hire a safari van customized to carry a group of up to 9 tourists including the driver guide who professionally will be in charge of your well-being and the Safari itself. We recommend you hire a safari van for your next Murchison falls safari given the following features that it bears;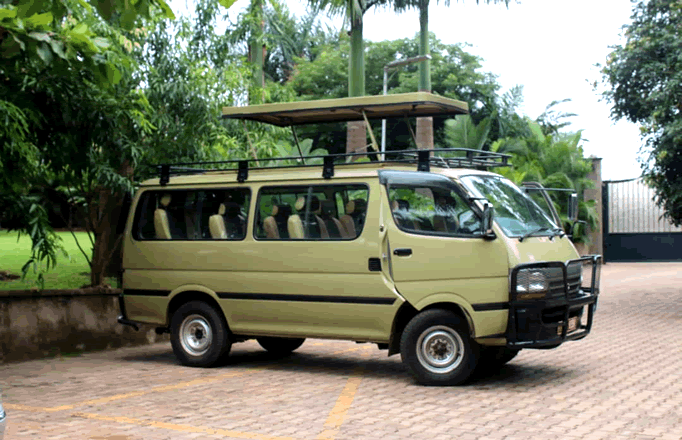 4×4 Mechanism
The safari van is built to manage the rough terrain of the park and muddy tracks which will let you as a group be driven without getting stuck in a pothole or mud on your way to or during a game drive so do not hesitate to hire this four wheel drive safari van to avoid any road or mechanical inconveniences.
Size
The safari van is spacious enough to carry up to 9 tourists in it while everyone can have a comfortable sitting posture during this long journey to the park and during the game drive thereby preventing you from having serious exhaustion. This is just giving you comfort close to that of your sitting room while on road.
Pop-up roof
Its opening roof gives the tourists a pleasant opportunity to engage in photography and game viewing while in the park and along the routes instead of struggling to view through the small windows, in addition the tourists get to stretch with their heads out through the roof as they get clear views of the wildlife and nature not to mention the jungle breeze.
Cargo space
To avoid struggling for space with your luggage, this safari van is modified to carry your luggage like the camping gears and safari bags, and maintains their good shape hence providing safety to your property like it does to you. Space and comfort always ride together hence it should be your top priority to get a vehicle that fits the passengers as well as their cargo and which better minivan than the customized safari van.
Looking for the perfect group vehicle for your road trip to Murchison, why not hire a safari van in Uganda given the above reasons. You can get in touch with us today by sending an email to booking@tristarafricaskimmersafaris.com or call us now on +256-758540071 to speak with us now.