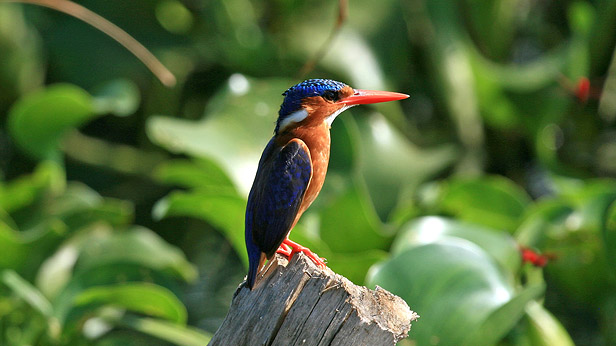 Uganda is home to over 1050 species of bird located within the city, forests, savannah plains and woodlands across the country. Our tailor-made 12 days (11 nights) bird watching package will take you to some of top national parks and wetlands within the country- Other activities include game drives, launc trips, chimpanzee trackiong and nature walks to give a full feel of the wild nature. Below id detailed itinerary including day by day activties and accommodation.
Day 1 – Mabamba swamp

Mabamba is a 12 km long stretch of wetland just an hour on road from Entebbe town, This is one of the most popular ornithological sites in Uganda home to up to 260 bird species including the infamous giant Shoebill bird. Our guide will pick you up as early 7am from your hotel or residence and drive you to the swamp for a guided bird watching expedition in dug-out canoe. Expect sightings of birds including the Papyrus gonolek, pygymy goose, Yellow-backed weaver, Swamp fly catcher, Purple heron, African water rail, Blue breasted bee-eater, Goliath heron, lesser jacana, Hammer kop, Malachite Kingfishers, Yellow billed duck, Pied kingfisher to mention but a few. Dinner and overnight at Airport View Hotel/ Papyrus guest house/ the Lodge/ Sophies Motel
Day 2 – Transfer to Murchison Falls Park
After an early breakfast, you will be driven to Murchison falls park and the road trip last about 5 and half hours with a stop-over at Masindi hotel for lunch. Enjoy views of the Budongo forest situated adjacent to the park as you head to the top of the falls to get a glimpse of the strength and magnificence of one of Africa's most beautiful waterfalls. Check in at Yebo camp/ Red Chilli camp/ Pakuba lodge/ Paraa safari lodge for dinner and overnight stay.
Day 3 – Game Drive & Boat Cruise
After an early morning breakfast, you will be driven to the game tracks for a 3 hour guided game drive where you will get chance to encounter a variety of wildlife and bird species including common birds like the Abyssinian ground hornbill, Secretary birds, Open billed storks , African fish eagle , Vulture, Egyptian geese, Hornbills, Francolin, Kingfishers, among others. Return to the lodge for lunch and short nap. After lunch you will be driven to the river banks for a 3 hour launch trip to the bottom of the falls, expect sightings of water and land birds including the mighty African fish eagle, the rare shoebill, Yellow billed stork, Pelicans, Kingfishers, Egrets, Plovers, Woodpeckers among others plus wild animals including buffaloes, elephants, nile crocodiles, kobs to mention but a few. Dinner & overnight stay at lodge.

Day 4 – Birding in Budongo forest
After an early breakfast, head off to Budongo forest situated along the route leading the Murchison falls park comprised of semi-deciduous forest with small patches of woodland and savannah vegetation. It popularly known for its high concentration of primates including the Chimpanzees plus the rare Mahogany trees. The forest is home to over 360 bird species which can best encounter on a guided walk through the Royal mile , a popular long stretch through the woods where you can get an opportunity to watch a variety of birds including the African dwarf, Whalberg's Eagle, Martial eagle, Grey crown, Balck capped Apalis, Black-faced waxbill, Grosbeak- weaver, Tropical Boubou, African Penduline among others.
Day 5 – Busingiro Eco Tourism Site
Busingiro is another exciting birding destination in Uganad located just inside the Budongo forest blessed with a number of bird species. Transfer to the site as early as 7am for a guided walk , expect sightings of species like the Red tailed bristle bill, Pale-breasted illadopsis, Speckled tinker bird, Yellow crested woodpecker, Grey parrot, Yellow mantled weaver bird, Yellow bill, African Emrald, Rufous Flycatcher, Western Nicator, Honey guide, Slender-billed, Forest robin to mention but a few. Dinner an overnight stay in Masindi town.

Day 6- Transfer to Kibale National park
After an early morning breakfast, check out and prepare for 5 hours road trip from Masindi to Kibale forest, another popular park with large population of primates as well as birds. Arrive at the lodge in time for lunch , check in and relax or tour around as you wait for next days activities. Lunch, Dinner & Overnight stay at Chimpanzee guest house/ Kibale forest camp / Primates Lodge/ Ndali Lodge

Day 7 – Chimpanzee tracking
Uganda is home to up to 4900 chimpanzee and Kibale forest contains over 1000 chimps plus another 12 primates making it one the best destinations for tourists interested in primate walks in Africa. Watch out for other primates including Baboons, Black & White colobus monkey, L'hoest monkey, Vervet monkey, red tailed monkey, Blue monkeys plus a number of birds including the Yellow spotted barbet, Balck-billed Turaco, White-naped pigeon, Grenn breasted pitta, Grey throated flycatcher, Grey winged robin among others.
Day 8 – Birding in Bigodi Wetland-

Another popular bird watching spot in Uganda is the Bigodi Wetland Sanctuary also known as Magombe Swamp, it contains a wide array of attractions including birds, butterflies, plants and trees with well defined trails to ensure a birder gets the best view as comfortable as possible. Expect sightings of Papyrus gonolek, Black & White Flycatcher, Mountain wagtail, Dark-backed weaver, Black-necked weaver, Masked Apalis, Yellow bill, Cassin's Honey bird, White-headed Wood Hoope, Pink-footed puffback – Also watch out for butterflies, monkeys and the sitatunga antelope if lucky. Dinner & Overnight at lodge.

Day 9 –  Transfer to Bwindi National Park.
Uganda's oldest and most impenetrable forest is not only home to over half the population of endangered mountain gorillas but also contains up to 350 species of birds including 23 Albertin rift endemics. After an early breakfast , you will be driven to Bwindi forest where you will enjoy a full 3 days watching birds using the Ruhija Mubwindi swamp trail  and Buhoma rift trail. Dinner and overnight stay at Nkuringo gorilla camp/ Buhoma lodge/ Buhoma community bandas/ Ruhija campsite
Day 10 – Birding at Ruhija
After an early breakfast, embark on a guided walk passing through the main trail. Expect sightings of Augur Buzzard, Francolin, Collard Apalis, Blacksaw wing, Brown crowned Tchagara, Bronze Sunbird, Archer's Robin chat, White naped raven, Purple breasted sun bird, Woodland warbler, Stripe-breated tit, Yellow Bishop among others. Dinner at overnight stay at Ruhija Campsite.

Day 11- Birding at Mubwindi swamp

After an early morning breakfast, you will be transferred to Mubwindi swamp for a full birding tour where you will get chance to watch a variety of rift endemics including Archer's robin chat, Fraser's Eagle Owl, African green broadbill, Eastern mountain greenbul, Stransge weaver, montane night jar, African green broadbill, Rwenzori hill babbler , Regal sunbird among others. Transfer back lodge for dinner and sleepover.

Day 12 – Transfer back to Kampala / Airport
Check out of the lodge and prepare for transfer back to Kampala city ending the birding safari adventure around Uganda. You will be driven to a hotel/ residence in the city or directly to the airport for departure.

END OF SAFARI