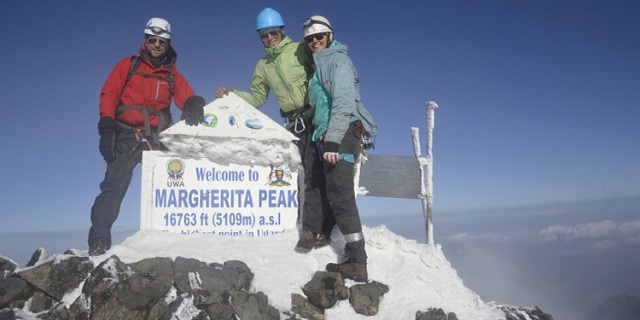 Go through the different fragile vegetation zones along the trails and spot the mist shrouded peaks that provide a good back drop to the magnificent mountain Rwenzori.
Day 1: Kampala to Mount Rwenzori
Set off for Kasese from Kampala via Queen Elizabeth National park through the Nyakalengija trailhead and drive past enroute captivating attractions like the markets on the road side aerated with fruits and vegetables. Have a brief stopover at the equator in Kayabwe and experience souvenir shopping and memorable snap shots. Dinner and overnight at Margherita hotel
Day 2: Beginning of the mountain hiking
Head to Nyakalengija trail off Fortportal road after your breakfast and set off for the hike through the vegetation zones and ascent to Nyabitaba hut through canopies and slopes of Podocarpus forest and enjoy the walk with possible sighting of several wildlife creatures like the Dinner and overnight at Nyabitaba hut.
Day 3: Matte Hut (River Mubuku)
Commence on a morning hike from Nyabitaba hut after your breakfast to John Matte Hut. Tumble down through a small trail to the forest for Kurt Shafer Bridge and cogitate at the luminous Mubuku River. Descend through the open moss forest and open patches before you reach John matte hut for dinner and overnight stay.
Day 4: To Bujuku
After breakfast go through the magnificent view setting of mount Stanley, Baker and Speke, with a panoramic landscape of the gigantic Groundsel via River Bujuku to the home of the giant Lobelias in the Bigo Bog. Dinner and overnight at Bujuku hut.
Day 5: Scott Elliott Pass
Ascend the main trail to Scott-Elliot Pass (4372m) through the paranormal Groundsel Gully from Bujuku hut down to Kitandara lakes. After the Gully, head over a steep rocky trail to Elena hut a base camp for climbing Margherita peak.
Day 6: Kitandara Hut
Cut below the massive rock walls at the base of Mt. Baker form the Scott Elliott pass via upper Kitandara Lake through the bad mud to the lower lake and Kitandara Hut for dinner and overnight.
Day 7: Guy Yeoman Hut
Set off to Guy Yeoman after breakfast from Kitandara close to the Mubuku River and enjoy the terrific views of the Mount Baker in the north and surrounded by the beautiful landscape of the mountain. Have dinner and overnight at Guy Yeoman hut.
Day 8: to Nyitamba
Take an early morning trek towards Kachuchu to Nyabitaba and take a rest after the strenuous past days mountain hike. Later transfer to the park headquarters with dinner and overnight at Margherita Hotel.
Day 9: Departure
Transfer back to Kampala after a late break fast with your lunch enroute.
END OF HIKING SAFARI