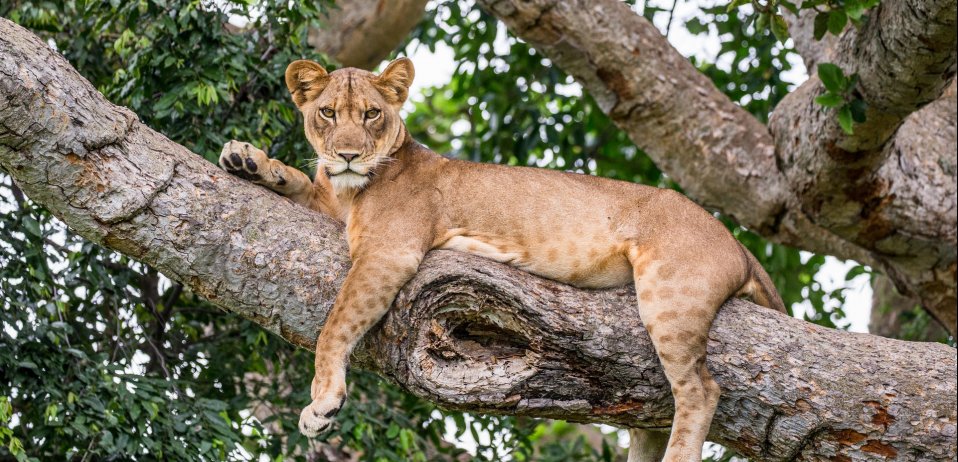 Once known as Kazinga National park, Queen Elizabeth national park is Uganda's second most popular national park situated west of Uganda in Kasese. The1978 sq. km national park extends from Lake George connecting to lake Edward through the Kazinga channel, a popular place for the hippos. Queen Elizabeth national park includes Maramagambo forest and borders Kigezi game reserve and Kyambura game reserve where an estimated 10 primates reside.
Wildlife – Queen Elizabeth national park is home to 95 species of mammal and over 600 bird species. Common wild animals include the African elephant, buffalo, warthogs, Uganda Kobs, water bucks, lions, leopards and a huge density of hippos plus Nile crocodiles. The tree climbing lions at the Ishasha sector are a joy to watch, so always remember to remind your guide to make a stopover.
Activities – The park offer a wide variety of things to do including game drives, boat rides along Kazinga channel, primate tracking, bird watching, nature walks, horseback riding at Mihingo lodge.
Getting there – Travelling from Kampala to Queen Elizabeth national park takes about 6 to 7 hours using the Masaka road to Mbarara-Kasese road and only a few hours' drive if you are in Mbarara or Kasese the nearest cities.