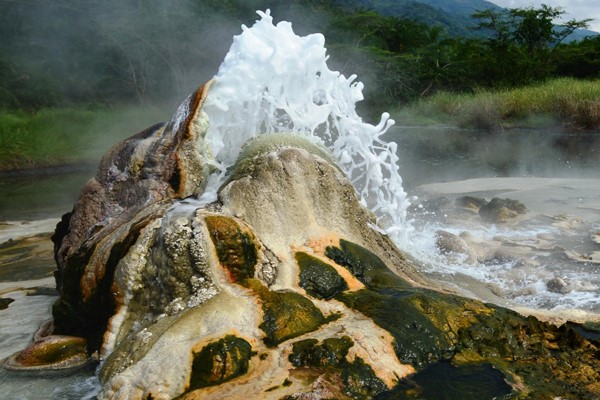 Day 1: Transfer from Kampala
Our guide will pick you up for a transfer to Fort portal this morning. Depart for Semliki National Park which is made up of diverse habitats that explains the diversity of species, via Mityana-Mubende road with an enroute a stopover at the historical Nakayima tree in Mityana town. You will be rewarded with sightings of the beautiful lush green environment and roadside cliffs. Transfer for dinner and overnight at Semliki Safari Lodge/Hotel Vanilla /UWA campsite

Day 2: Nature Walks
Today after your morning breakfast, take pleasure in a guided nature walk in the vast extension of the Ituri forest and you will be rewarded with sightings of early risers. Trail through the two main springs set in a lush swampy clearing close to the south eastern corner of the forest. You may spot bird species like the yellow throated tinker bird, horn-bills, red-rumped and Frasier's ant-thrush, blue-breasted King fisher and honey guide greenbul among others besides the habitant primates which include the red-tailed monkey, grey checked Mangabey and Black and white colobus monkeys. A visit to the Mungilo waterfall will reward you with an excellent site for hornbill species. After your lunch a walk through the eastern boundary of the Semliki River will expose you to a variety of water birds, monkey's hippos and crocodiles. You may also spot the elephants and buffalos on this trail. Dinner and overnight stay at Semliki Lodge/ Hotel Vanilla /UWA campsite

Day 3: Game Drive
After your breakfast embark on a breathtaking memorable experience in the morning game viewing drive in the magnificent park. Towards the Semliki River, birders will be rewarded with rich views of a variety of bird species besides the magnificent flora. After your lunch a visit to Ntandi pygmy village of the early inhabitants of the forest, will expose you to the Ugandan rural lifestyle of the bush men. Transfer back for dinner and overnight in your lodge at Semliki Lodge/ Hotel Vanilla /UWA campsite

Day 4:Crater Lakes and Nyakasura Tour
Today after breakfast you will take pleasure in the visit to the crater lakes regions. Thereafter you will be rewarded with a tour to the historical Nyakusuara area to see the famous "Amabeere ga Nyinamwiru" (Breasts 'caves). Dinner and overnight at Semliki Lodge/ Hotel Vanilla /UWA campsite

Day 5: Transfer to Queen Elizabeth
After your breakfast drive off form the Semliki Park to the diverse park of Queen Elizabeth. You will enjoy a game drive as you enter the park with a spectacular view of its habitant wild life. Possible sightings may include; the Uganda Kob, lion, buffalo, topi, leopard among others. Head to Mweya safari lodge/Hippo Hills camp/ Simba safari lodge for an overnight stay and dinner.

Day 6:Chimpanzee Tracking
You will have a briefing session about the tracking code of conduct at the park headquarters after your break fast and thereafter catch-up with the tracking experience of the chimpanzees in their natural habitant in the Kyambura gorge. You will be rewarded with views of the forest habitants in the gorge surrounding for example the Black Bee Eaters and the Blue Breasted Kingfisher, Black and African Black Emerald Cuckoos, Speckled Tinker bird, green Hylia, White-spotted Fluftail , and lots of others. After your lunch, a launch cruise on the Kazinga channel will further reward you with scenic wild life views of the Nile crocodile, hippopotamus, chameleons and lizards with a variety of bird life. Dinner and over night at Mweya safari lodge/ Hippo Hill camp/Simba Safari lodge.

Day 7:Maramagambo and katwe Salt Mines
After your break fast take a walk in to the misty Maramagambo forest and catch-up with the early morning risers in the thick forest especially the habitant rich bird life through the Forested shore of Lake Kyasanduka trail. Other possible sightings on this trail may include monkeys like the red-tailed and vervet, black and white Colobus and the L'Hoests monkey. After your lunch witness an interesting process of manual salt mining on Lake Katwe at the Katwe salt works and don't miss out on the explanations about the whole process from the onsite guide. Dinner and overnight Mweya safari lodge/ Hippo Hill camp/ Simba Safari lodge.

Day 8:Departure
After your breakfast depart back to Kampala with your lunch enroute and leave to tell the memorable experience in Uganda.