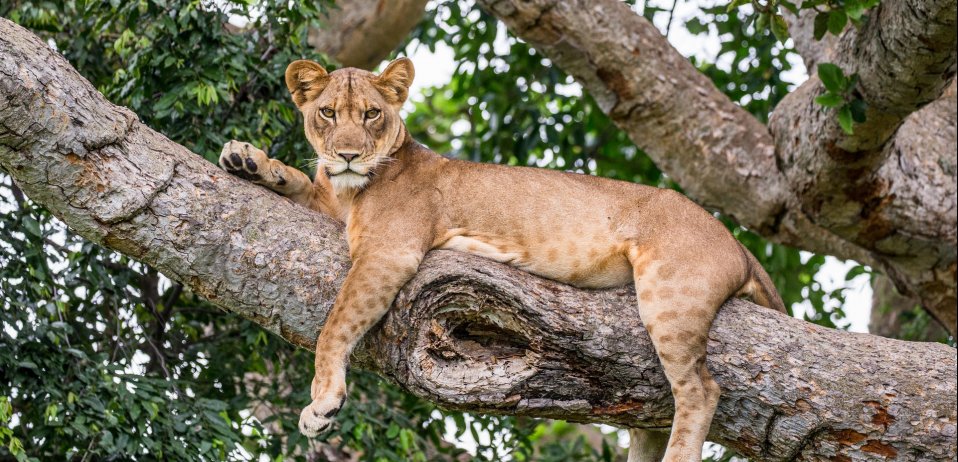 Day 1: Transfer to Queen Elizabeth National Park
Transfer to Queen Elizabeth National Park the second largest in Uganda located West of the Ugandan Rift valley, Via Fort Portal or Mbarara where we'll also have lunch, both routes to the park give the best scenic view of the countryside. Your adventure to the park begins with sightings of birds such as Snake Eagle, Cinnamon Chested Bee-eater Lesser Striped Swallow and barbet along the way, tea plantations, long horned cattle, open grasslands and Rift valley Escarpments. Reach the park in time for dinner.
Overnight stay at any of our partner hotels like Mweya Safari Lodge, Kasenyi Safari Camp or Twin Lake Safari Lodge.

Day 2: Game Drive and Boat Cruise
After breakfast and briefing at the hotel, a game drive commences the day to the Kasenyi Area, synonymous for animal breeding. Various game such as Lions, African Buffaloes, Elephants, Water Bucks, Warthogs, Kobs, Leopards and a variety of birds. Queen Elizabeth National Park is home to over 610 species of birds such as water Thick-Knee, Pelicans, Green-backed heron, storks, African Spoonbill, African white backed vulture among others. return to the hotel for lunch.
A boat cruise on Kazinga Channel in the afternoon will proceed lunch. The cruise along the 32Km(20mi) natural channel connecting lakes Edward and George is littered with many animals in the afternoon that have come to water down their thirst. Water animals such as hippos, crocodiles are a great spectacle and others like elephants splashing water with their trunks to cool off the heat, buffalos, lions hunting for an afternoon snack, give you lifelong memories. Return to the hotel for dinner and overnight stay.

Day 3:
Loaded with memories of the past days, exit the park back to Kampala either through the Fort-portal or Mbarara route. Lunch will be had enroute.
To book a safari to Queen Elizabeth national park, simply send us an email to booking@tristarafricaskimmersafaris.com or call us now on +256-758540071 to speak with the reservations team.