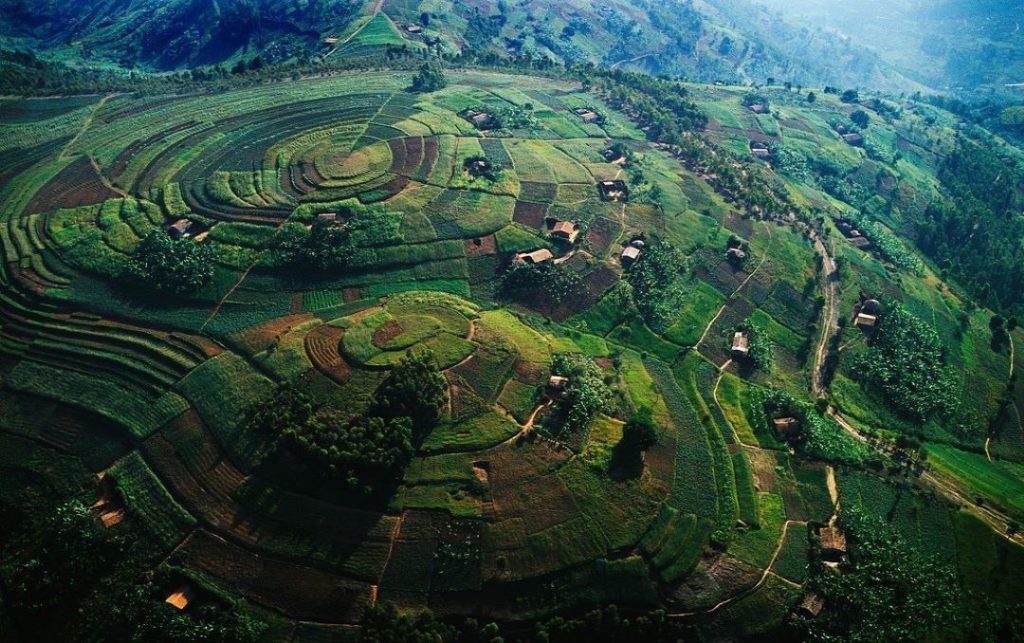 Tourism in Uganda
Discover Uganda the pearl of Africa, a land locked country found in East Africa with its largest part occupied by water and 241559 as its total area. Uganda is fully gifted with nature and considered to have the largest fresh water lake in Africa with beautiful evergreen savannahs and it's also the source of the second longest river in the world that is river Nile. Other physical features include mountains and hills, salty and fresh water lakes, rivers and falls. Uganda is also blessed with the best hospitalities including people regardless of their tribes.

Landscapes and Water Bodies
Landscapes and water bodies Uganda is naturally gifted with ever green savannah, forests, fauna, flora and plantations with two seasons including the wet and dry season. The great nature of the pearl of Africa has ten national parks and game reserves inhabiting most of the wildlife, mammal and all types of bird species.The endangered mountain gorillas, tree climbing lions, chimpanzees, African elephants, buffaloes, shy leopards, rhinos and the monkeys. This country is covered with fresh water bodies like lakes, rivers and waterfalls and considered to have the largest fresh water lake in Africa and it's also the source of the second longest river in the world that is river Nile. Other physical features include mountains and hills salty and non salty lakes, rivers and falls. Some of the attractions found in Uganda 'The pearl of Africa' include;
Bwindi Impenterable Natioal Park
This park is situated in southwestern Uganda around the edge of the rift valley and greatly known for a wide range of mountain gorillas making the park a place for gorilla trekking. it's also covered by a hillside with a rainforest. Bwindi forests are a home to 350 bird species, 120mammals and 320 gorillas. it's also occupied by 400 species of plants and animals include gorillas, elephants and chimpanzees.

Queen Elizabeth National Park
This park was named after Queen Elizabeth ii and was established in 1954. The park is located in western Uganda as the most visited national park for its tree climbing lions, the equator, boat cruise on the Kazinga channel and the game drives around the vast wildlife in the park. This park has got large eco systems including the savannah humid forests, fertile wetlands and sparkling Lakes thus making it host 600 bird species and ten primates including chimpanzees, elephants, buffaloes, lions, hyenas, crocodile, hippos, leopard and many more.

Murchison Falls
Murchison falls is the largest Uganda's national park measuring 3840 square kilometers and situated in the north western Uganda .The Park was first visited by James grant and john Speke and turned into Murchison Park in 1952 and known for the falls, Lake Albert delta, rhino tracking at Zziwa, launch cruise and game drives within the park. Murchison Park hosts over 76 species of mammals and 451 bird species as well as the Uganda's crocodiles. Explore the Karuma falls and the Nile. Animals include herons, elephants, lions, giraffes, bush bucks, antelopes, water buffaloes, Uganda Kobs, hippos, kingfisher, and bee- eaters

Mt. Elgon National Park
This mountain has got the largest volcano base in world. It's located on the Uganda Kenya border. The mountain's coolest heights offer respite from the hot plains below thus being occupied by wide fauna and flora. This park hosts 300 bird species, monkeys, elephants and buffaloes. Explore and view animals like bush pigs, elephants, buffaloes, waterbucks, hyenas, defassa, baboons, tree squirrel and many more.

Kibale National Park
Kibale national park is situated in south Uganda and it's found of evergreen rainforest and landscapes. It contains both lowland and montane forests and best known for chimpanzee trekking. This park is a home to 70 mammal species, 13 primates including chimpanzee and 375 bird species. Animals include chimpanzees, elephants, giraffes, hippos, lions, leopards and so many others.

Lake Mburo National Park
Mburo Park is situated closely to highway connecting Kampala to the parks of western Uganda and mostly known for game drives and nature walks. This park is the smallest of Uganda's savannah national parks and a home to 350 bird species as well as animals including zebras, impala, buffaloes, oribis, waterbuck, leopards, hippos, hyenas and many more.

Kidepo Valley National Park
Kidepo valley lies in a rugged semi-arid valley between Uganda's borders with South Sudan and Kenya and is known for game drives and nature walks. This park was gazetted in 1962 and hosts over 475 bird species, 77 mammals with a wide range big game. Explore Kidepo national park and view animals like elephants, oribis, bush pigs, buffaloes, lions, leopards, defassa, waterbucks, giraffes, zebras and others.

Semliki National Park
The park lies across the floor of the Semliki valley on the remote western side of the Rwenzori and uniquely known for the female and male hot springs named Nyansimbi and Bitente. The park has got hot springs that bubble from the depths to demonstrate the power of the subterranean forces that shape the rift valley during the last 14 million years. Enjoy viewing animals like blue duiker, squirrels, buffaloes, pigmy squirrels, vervet and blue monkeys, olive baboons and chimpanzees.

Source of the Nile
Experience the magic around the Nile, the longest river in the world that runs from Jinja with the best equatorial weather enabling activities like superb white water rafting ,jet boating, horse riding, squad biking ,swimming, bungee jumping, kaya king and game fishing.

Sempaya Hot springs
These hot springs are situated in Semuliki national park and they attract visitors who prefer wildlife tours in parks. These hot springs boil at a high temperature of up to 103 degrees Celsius and they spray up to 2 meters from a wide-ranging hole of 8 meters. The springs boil from the rock bottom of the earth within the underground topographical forces that have shaped the rift valley for many years.

Rwenzori Mountains National Park
The park is also called mountains of the moon and is situated in western Uganda along the Uganda Congo boarder. The mountain has got snow peaks including the third highest in Africa and the low peaks which are blanketed in bamboo, moorland and rich moist montane forest. This park is a home to 217 bird species, 70 mammals and the world's rarest vegetation

Sipi Falls
Sipi falls is a chain of 3 waterfalls in the eastern part of Uganda, Kapchorwa district. They lie on mountain Elgon national park near the Kenyan border. Its area is preparatory point to many treks up to the paths to the top and then runs down the Sipi trails back to the Sipi falls. Hiking to the falls give a great view of the Karamoja plains, Lake Kyoga and the hills of Mount Elgon.

Lake Bunyonyi
A home to many little bird species and located in south western Uganda between Kisoro and Kabale near the Rwandan border, 450km from Kampala .this is a place for holidays and those tourists who are interested in gorilla trekking in the nearby Bwindi impenetrable forest or Mgahinga national park for some Uganda safari activities.

Ssese Islands-Lake Victoria
Ssese Island is comprised of 84 islands in Lake Victoria lying north western side of the lake on The Ugandan side. Most of the islands are small in size with less or no human inhabitants while others are large. Bukasa and Bugala are the largest as compared to the others and have also got serene white sandy beaches, natural rainforests and water wonder world. Its environment provides a comfortable breath-taking life experience and is best for a holiday and vacation experiences around Lake Victoria.

Nakayima Tree
This historical tree is situated on top of Mubende hills in Mubende and is an ancient witch tree with large buttress roots. The hill has got a flat top where the ancient palace once stood. This place provides excellent view of Mubende town and the surrounding area. The tree serves as a shrine of the spirits of Nakayima, the first wife of the Bachwezi king Ndahura.

Culture
Uganda is rich in culture and gifted with so many tribes with over 45 ethnic groups with different cultural setting and ethics for the ancient times thus creating more room for tourists who pick interests in having cultural tours in Uganda the pearl of Africa. Tribes include Basoga, Baganda the largest tribe, Batooro, karamonjongs, Banyankole, Bagisu, Itesots and many more. Each tribe speaks different language with different cultural morals, way of dressing, dances and cuisines.

People and Hospitality
Uganda has got the friendliest and welcoming people on this planet earth, they welcome foreigners from every corner of the world regardless of the color and they have good communication skills through English and Kiswahili with other home languages. Cultural morals for example in Buganda culture women greet while kneeling while men are superior in their families.

Dances
Cultural dances like Ekizino dance from Kigezi region, Ekitaguriro from Ankole, Mawogola, Bakisiimba and Nankasa from Baganda, Adunga from west Nile region, gaze from Lugbara and Nalufuka from the Basoga. These are all interesting dances that make each tribe uniquely different.

Cuisines
Each Ugandan tribe has a cuisine which consists of traditional cooking styles for example the steamed matooke, kawunga (maize meal) made from maize, kalo (millet bread) made from millet and amukeke made from sweet potatoes.

Religion
Uganda is identified with so many religions and her government gives freedom of worship to the citizens including Islamic faith, Christianity which was brought by missionaries, the Adventists, Catholics, Anglicans and those believing in cultural small gods who were believed to be the first gods in Uganda before the missionaries. Religion has played a big role in the tourism industry of Uganda through the Namugongo Martyrs shrines and the Gaddafi mosque.

Clothing
There many traditional out fits in Uganda being identified with tribes. Women are known for gomesi and kanzu for men. Those from North West drape a long cloth around their waists and shoulders called suuka.

Local brews
Uganda has its own brewery company producing Uganda waragi and other local beers like the amarwa and Kwette from Buganda tribe and ajono from Teso tribe. These are brewed from millet sorghum and bananas and are made within the communities by the natives thus promoting friendships within societies.

Wildlife
The wildlife of Uganda consists of fauna and flora with 364 species of mammals and 1062 species of birds and situated within the 10 national parks and game reserves around the Uganda including Kidepo, Murchison, Bwindi, mount Rwenzori, Semuliki, lake Mburo, Kibale, Mgahinga gorilla park, Queen Elizabeth, mount Elgon national parks with the big five animals including elephants, buffaloes, rhinos, leopards and lions. Uganda explains wildlife clearly for its vast nature and diversity of habitats of wildlife such as forests, wetlands, savannah and lakes. Animals like chimpanzees, lions, leopards, giraffes, zebras, hippos, hyenas, mountain gorillas, monkeys and other safari animals. Bird species include shoebill, African green broadbill, short tailed warbler, standard night jar, green breasted pitta and many more.