Top 4 Best Transport Means Of Getting Around Kampala In 2022

Getting around Kampala city, is quite a task as you might find yourself having to use different means to beat costs time and convenience. With a variety of transport means, the choices made depend on what your target is. Each transport means has its own advantages; however safety should be your priority at all times. Tristar Africa Skimmer Safaris has decided to write about some of the best transport means in Kampala city whether you are on vacation or business holiday.
Uganda Car Rental Agency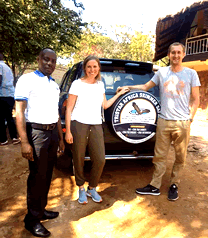 There are quite a number of car rental agencies to help you secure a car that suits your set task. The available car rental services in Uganda and prices vary with whether you would like a driver or self drive and the model of the hired car. But if you're new to city, it is only wise to have a driver who is familiar with city to avoid stopping and inquiring for directions. Experienced drivers also know their way through the traffic. Renting a car requires you to only present scanned copies of your passport and driver's license then you can enjoy the service for as long as your wallet allows you to.
Public Taxi
These are the most available and popular means of transport in Kampala. Most are super mini busses with 14 passenger seats commonly differentiated by their blue queued markings. The easiest way to catch a taxi is in the old and new taxi park or around city square. These taxis have a final destination area that is usually re echoed out by stage controllers and conductors. It is a standard price for all passengers however if you are going near, It is important to first bargain with the conductor. On that note, despite the perennial habit of stopping at the stage and the congestion, the taxi still leads at being the safest and cheapest means of transport in Kampala.
Boda bodas
When it comes to keeping time, bodas should fill that gap for you. There is at least two bodas on every road side, making it the most convenient transport means. Without a doubt, bodas are more prone to accidents but how can they be avoided with the heavy traffic in the city. Every road is congested especially in the morning and evening hours most people are therefore left with no option. If the worst comes to the worst and you choose a boda, feel free to limit the rider from over speeding. You can also choose to only ride with those that provide helmets for their passengers.
Online travel apps
The use of apps has immensely grown this year in Kampala and adapting to it hasn't been sludgy. Apps like safe boda, taxify and uber really save the day for many. It is cheap to use and they easily reach you with the best customer care they can afford. These apps charge according to time and distance, the number of people you have in an Uber does not matter, the charge is uniform even if you were alone. This procedure just makes prices very impressive being the reason, most are getting adopted to the use of apps.
Therefore to save yourself the burden of being in and out of different cars, take to hiring a car of your choice. Tristar Africa Skimmer Safaris has you covered on that. If you are looking for a car to hire a car with or without a driver, Prices are negotiable so you can simply dial +256758540071 for reservations or directly email us on booking@tristarafricaskimmersafaris.com for feedback.
Sharon A