Top 4 Chimpanzee Tracking Destinations in Uganda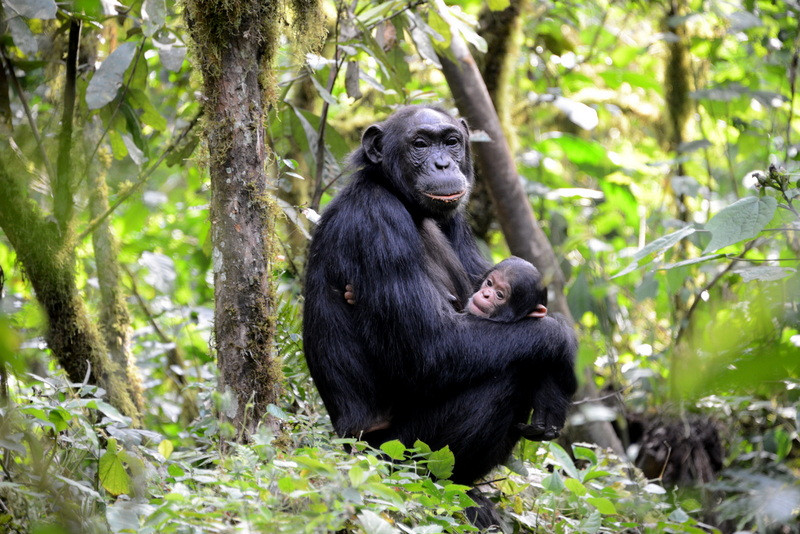 The chimpanzee is one of the great apes along with the endangered mountain gorillas which has made it another popular attraction for tourists interested in primates and nature. Uganda is home to over 4900 chimps conserved in rain forests, the zoo and wildlife sanctuaries. The habituated apes are friendly and easily approachable giving visitors the chance to get a full feel of the animals as they observe, learn and also feed / play with them. If you are planning a safari in Uganda this season, below are top 3 destinations to visit if you would enjoy forest walks and tracking African primates.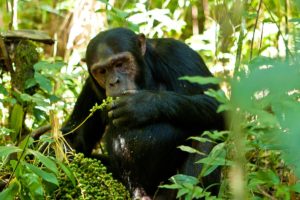 Kibale National Park
Kibale holds the record for highest density and diversity of primates in Africa and highest population of chimpanzees in Uganda with up to 1450 chimpanzees making this incredible forest their home. Forest walk starts from
Kanyanchu visitors center
at 8am in the morning and 3pm in the afternoon and usually last about 3 hours. You will encounter other species along the way including red tailed monkeys, black & white colobus monkey , vervet monkeys, olive baboon, red colobus  and if lucky the rare l'hoest monkeys and grey cheeked mangabey. Watch out for lots of birds and tree species as well including the African pitta, Afep pigeon, Pigeon, Black bee eater, Blue breasted kingfisher, Crowned eagle among others. Check out the detailed 
Kibale forest tour
package for a sample of what to expect on a guided trip with a travel company. A tracking permit costs US$ 150 per person and can booked online or at UWA offices in Kampala.
Kyambura Game Reserve
The Kyambura gorge also known as the 'Valley of Apes' is situated in the eastern corner of Queen Elizabeth national park, one of the most famous wildlife parks in Uganda. Spanning a distance of up to 11 km and linking to the Kazinga channel, the reserve is home to 13 habitats including the common chimps , red tailed monkeys, black & white colobus, vervet monkeys, baboons plus birds like the falcon, Africa fin foot, crowned eagles to mention but a few. A 2 hour guided walk offers you chance to encounter all these species as you take in the scenic views of the gorge, trees and savannah landscapes that surround it.
Uganda Wildlife Education Center (Zoo)
Uganda's zoo is another interesting destination where you can spot a variety of wild animals including primates, birds, reptiles among others. Watching the animals in closed cages or glass is safe and much cheaper compared to travelling long distance and journeying deep in the jungle tracking them. It's a popular destination for kids, students and a few tourists who love to learn about these animals' behaviours and also tour around Entebbe town.
Ngamba island
Located 23 km off shore of Entebbe town on 100 acres of rainforest is the Ngamba Island Chimpanzee sanctuary, a home set-up to care for orphan chimps rescued by UWA guides from various places in Uganda after they survive poachers or animal attacks and prepare them for re-introduction into the wild. The sanctuary is now home to over 50 chimps which can be encountered during guided day and night trips which offer you chance to closely observe, interact and also touch and play with the chimps which isn't the case in other mentioned destinations. To help this cause, you can donate or volunteer and go help out with chores like feeding the apes, cleaning their shelters, fetching water among others.]
Planning a safari in Uganda and are interested in tracking chimpanzees or in love with nature, just get in touch with
Tristar Africa Skimmer Safaris
through
booking@tristarafricaskimmersafaris.com
to book or inquire about rates and availability.