Top 3 Uganda Safaris You Shouldn't Miss Out When On Tour
Uganda, for the just concluded decade and many more before has been and is still one of the top tourist destinations for safaris in Africa. Being among the first priorities and best choice for everyone that loves to adventure Africa, the pearl of Africa has so many features to offer to account for all these tourists that love to visit often. Some of these being the abundant wildlife, sparkling crater lakes, rolling hills, beautiful mountains, lakes like the famous lake victoria which happens to be the source to the world's longest river that being the River Nile, Uganda is also home to over  400 of the world's 1004 endangered mountain gorillas which is almost half of it. Who wouldn't want to visit a place with all those in one country?
There are so many Uganda safari packages that this unique country provides with the top three being;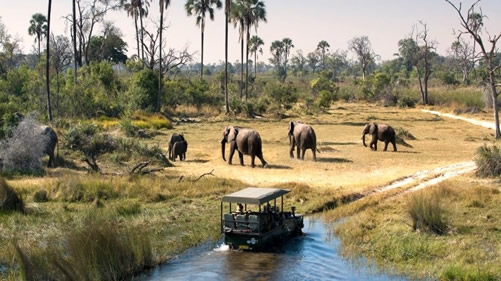 Gorilla safaris
Like I mentioned earlier, Uganda is home to over 400 gorillas which are almost half of the world's 1004 endangered gorilla species. This alone can entice anyone who loves to adventure and will definitely get him moving to come visit the country of wonders.
The gorillas are found in two habitats that is Bwindi impenetrable forest National park and Mgahinga Gorilla National Park which are both found on the southwestern part of Uganda. There are a total of 18 groups in these two places however the permit number is limited because only 8 people are allowed to visit a family or group per day and for only one hour. Early booking of gorilla trekking permits is recommended and this can with The Uganda wildlife authority in Kampala or with a tour agent. The mountain gorillas are habituated in order to cater for humans who come to view the giants.
Birding Safaris
The pearl of Africa as many know it, is brilliantly Africa's leading birding safari destination with 50% of the continent's bird species concentration and 11% of birds in the world. Uganda is not only known for its massive number of bird species but also because it offers easy access to the habitats that are difficult to reach elsewhere. Uganda has a total of 1,061 bird species recorded and there's notably one bird that's endemic to the country which is the ordinary fox's weaver. Therefore for those birders who would love to watch bird species in Uganda, the best places to do is to visit Lake Mburo for water and acacia associated birds, Entebbe for water and forest birds, queen Elizabeth National park which has over 600 bird species recorded, Murchison Falls National Park which is the best place to see the papyrus-associated shoe-bill and then lastly kidepo National park which has over 50 raptors recorded. Some of the common bird species in Uganda include great blue turaco, grauer's broadbill, bar-tailed trogon, standard winged nightjar, Shelley's crimson wing, papyrus gonolek, black breasted barbet, black bee eater, handsome francolin, Rwenzori turaco, long toed lapwing, Doherty's bush shrike, black and white casqued hornbill, black heated gonolek, red-throated gonolek, chocolate backed kingfisher, African spoonbill, Eastern plantain-eater, blue-headed coucal among so many others.
Wildlife safaris
This is the most preferred Uganda safari package by tourists mainly because it has so much to offer. Uganda is home to classic wildlife game not excluding the big five namely leopards, African buffalo, elephants, rhinos and lions which surprisingly include tree climbing lions. All these are found in the various game parks all over the country which total up to a number of 10. Some of the other wild animals found in these parks include giraffes, warthogs, bushbucks, spotted hyena, oribis, the impala, cheetah, Topis, Jackson's hartebeest, jackals, kobs among many others. The ten National parks are Queen Elizabeth National park, Kidepo valley National Park, Bwindi Impenetrable National Park, Semliki National Park, Mount Elgon National Park, Rwenzori National park, Kibale Forest National Park, Mburo National Park, Murchison Falls National Park and Mgahinga Gorilla National park.
To find out more about safaris in Uganda visit our website www.tristarafricaskimmersafaris.com and book a safari tour with us or email booking@tristarafricaskimmersafaris.com. Alternatively you can reach us on +256758540071 to speak directly with our reservations team.