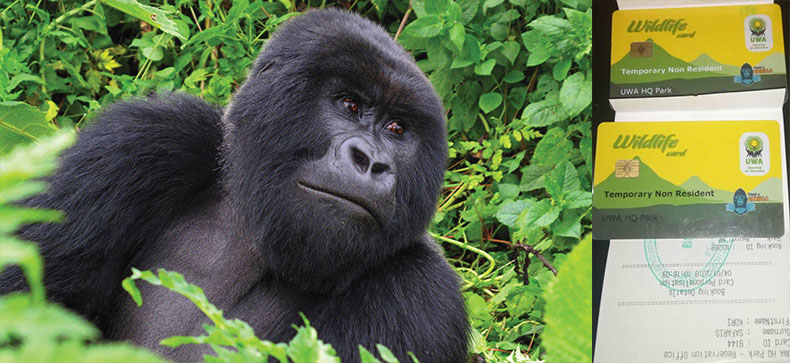 A gorilla permit is a document issued by Uganda Wildlife Authority (UWA) to allow a tourist above the age of 15 years to trek mountain gorillas in Bwindi forest & Mgahinga park. The permit offers you chance to view gorillas in the wild for only an hour but gorilla trekking usually lasts for 4 to 7 hours depending on the location of the gorilla family at that particular time. In the peak season of June, July, August, September, December & February and so it's always advisable to book a gorilla permit at least 4 months before you arrive to avoid missing out on one of the greatest wildlife encounters in the world.
What is cost of Uganda gorilla permits ?
A gorilla permit in Uganda currently costs US$ 700 per person for non residents , US$ 600 per person for foreign residents with a n East Africa working permit and UGX 250,000 per person for East African citizens while a gorilla habituation experience permits go for US$ 1500 per person. There are 4 gorilla trekking regions in Bwindi forest and these include Buhoma, Rushaga, Nkuringo & Ruhija sectors and each region is allocated permits so it's advisable to book your permit before they run out in a particular region.
How to book a gorilla permit ?
You can easily book a gorilla permit online through a travel agency like Tristar Africa Skimmer Safaris or in person at the UWA offices situated in Kampala city . Booking online will incur a surcharge fee while booking at the office will require transport money only. Book A Permit Now by seinding an email to booking@tristarafricaskimmersafaris.com or call us now on +256-758640071 / +256-785231603 to speak to our permit reservations tea.