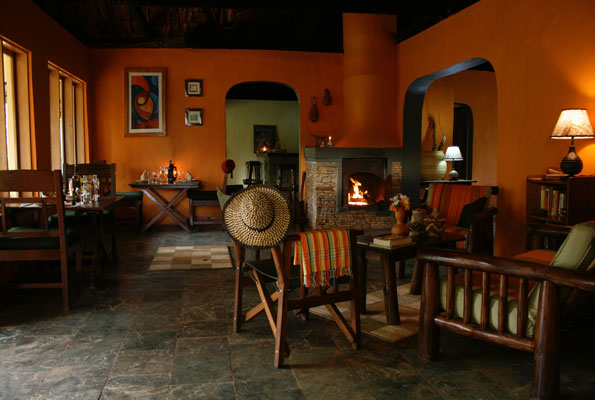 While at Sipi River Lodge, you will experience incredible personal services offered to the guests. It offers a variety of tour activities within walking distance of the lodge like coffee tours, hiking, rock climbing, abseiling and trout fishing. They also organize mountain Elgon expeditions. At Sipi river lodge, you are ensured of relaxation and take in the sweeping views and abundant birdlife. Sipi River lodge promises you a memorable stay right inside Kapchorwa.

Kapsurur and Aniet cottages
These beautiful luxury cottages are private, spacious and elegant in design offering the best views of the waterfall with en-suite bathroom, lounge and veranda.
Rates: based on full board & half board respectively
1 adult $194/ $183
2 adults $258/ $238
3 adults $355/ $324
4 adults $444/ $405
Chepkui family cottage and Annex (the Seven Dwarf House)
This cosy and romantic cottage is perched on the hillside with stunning views of the fall. It has a small private garden, en-suite shower, toilet, a master bedroom and a separate lounge with sofa perfect for families and large groups. The annex is called 'Seven Dwarf House' available to all clients most perfectly for couples.

Rates
1 adult $136/ $126
2 adults $219/ $200
3 adults $297/ $268
4 adults $374/ $335
5 adults $452/ $405
Piswa and Sasa Bandas
These are set in an authentic – looking round thatched houses next to the river with parallel views of Kapsurur falls uniquely styles bandas with a giant bed built from local stones with shared bathroom, and shower only.
Rates – FB & HB
1 adult $112/ $102
2 adults $138/ $118

Suam Bunkhouse
This small house is set away in the shades of trees near the banks of the Sipi River and has stunning views of the falls and the surrounding environment with shared bathroom and shower facilities. Each bed is $67/ $56 per person.

To inquire or book a room at Sipi River lodge, email us at tristarafrica.skimmersafaris@gmail.com or call us on +256758540071/ +256785231603.