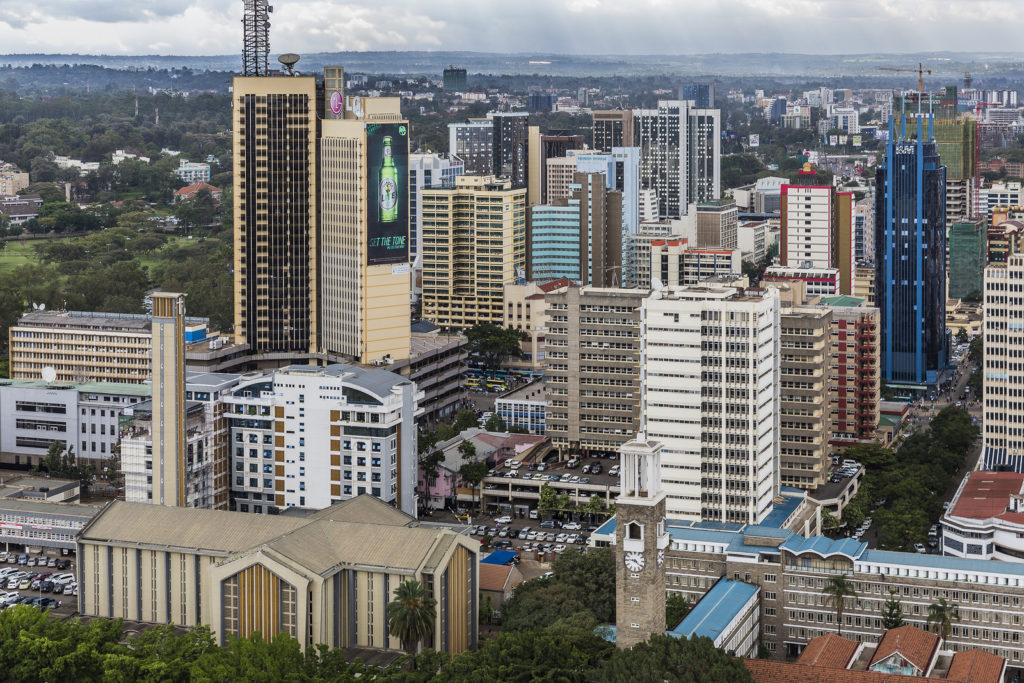 Nairobi is the capital and largest urban Centre in Kenya deriving its name from the Masai words 'Enkare Nairobi' meaning "cool waters" because of the Nairobi river which roars amidst it, additionally, Nairobi is the only city in the world with a national park acting as a sanctuary to numerous wildlife game located just 7 kilometers away from skyscrapers in Nairobi's City Centre, a buzzing a rhino sanctuary protecting over 50 endangered rhinoceros and other wildlife including the lions, buffaloes, elephants, cheetahs, warthogs and gazelles and more than 400 bird species on record often spotted in the wetlands. The city's population as per 2019 census was at 4,397,073 within the administrative area and the metropolitan had 9,354,580 occupants distributed in the different constituencies that include Westlands, Kibera, Langata, Kasarani, Ruaraka, Mathare, Dangoreti North and Dangoreti South among others. The establishment of Nairobi started in 1899 under the colonial rule intended for a rail depot but surprisingly, it outgrew Mombasa in 1907 and immediately after Kenya attaining her independence from the British colonial masters in 1963, Nairobi eventually got the city status as the capital of Kenya.

The former Kenyan president Daniel Arap Moi is said to have burnt 12 tons of elephant tusks and rhino horns in the year of 1989 to boost up Kenya's conservation image on the international tourism scene and currently a monument stands in the city to commemorate Daniel Arap Moi's action and the ivory burning site.

Nairobi has other areas of attractions like the Bomas of Kenya, Giraffe Centre, Karen Blixen Museum, Ngong Hills, Nairobi Safari Walk, The Masai Market, Nairobi Museum, and Nairobi Animal Orphanage among others. The means of transportation within Nairobi City are Matatus with the buzzing sound of Bongo music filled with Swahili lines and graffiti of their favorite artists like Sauti Sol, Khaligraph Jones, Nairobi Horns among others and Boda Boda which are motorbikes best for beating jam during the rush hours to and from work.


Areas of interest around Nairobi National Park

Giraffe Center
The Giraffe Centre created in 1983 serves as a sanctuary to the endangered giraffe species located about 20km from Langata, one of Nairobi's constituencies at the edge of Nairobi National Park with an open viewing area for guests to interact with the endangered Rothschild's giraffes and a Giraffe Manor with a sole aim of providing conservation education to the children.

David Sheldrick Wildlife Trust
Located at the entrance of Nairobi National Park, the wildlife trust protects the orphaned elephant and rhino calves under the rescue and rehabilitation program founded by Daphne Sheldrick to remember/commemorate her late husband David Sheldrick in 1977 and currently being managed by Angela Sheldrick, one of their surviving children.


Attraction of Nairobi National Park
Nairobi National Park was established in 1946 south of Nairobi City at least 7km away to protect, conserve and preserve the wildlife and natural resources in the area of 117km square. It is fenced on the three sides leaving out the southern sector open for the wildlife to freely locomote and graze in and out of the Kitengela plains during the dry and wet seasons.

Wildlife
The park is a paradise to wildlife including the lions, leopards, rhinos, buffaloes, elephants, cheetahs, warthogs, wildebeest, elands, zebras, hippos and gazelles easily viewed during the game drives organized based on the visitor's timetable. Morning, afternoon, full day and night game drives which are usually organized depending on the visitor's itinerary.

Birds
There are over 400 bird species reported in the swampy areas of Nairobi National Park including African crested cranes, African fish eagle, kori bustard, secretary bird, marabou stork, Ruppell's vulture, martial eagle, great white pelican, Egyptian goose, hadada ibis, sacred ibis, malachite kingfisher, wagtail, yellow billed stork, go away bird, hamerkop, Madagascar bee-eater, plovers and African jacana among species that fly in and out depending on the seasons hence attracting birders from all over the globe.

Things to do in Nairobi Nairobi National Park

Game Drives
During the games drives the visitors may or may not have an encounter with lions and leopards because of their nocturnal nature so very early morning game drives are recommended or night game drives but for wild game like buffalos, elephants, gazelles, zebras and rhinos, they are easily spotted grazing within the park especially near the water collection points.

Walking Trails
Visitors can take nature walks along the swampy areas of the park sighting vegetation, birds and wildlife game of the park in the comfortable company of the game ranger guide. This moment is refreshing and astonishing in a way that you walk on foot and are able to capture photos as many as possible.

Bird Watching
Birdwatching is a popular activity in Nairobi's strategically stationed park with over 400 bird species recorded within the wetlands perfect for photographic moments with birds like the African crested cranes, African fish eagle, kori bustard, secretary bird, marabou stork, Ruppell's vulture, martial eagle and great white pelican.

Turtle and Tortoise Watching
Turtle and tortoise watching expeditions are overly amazing at the Nairobi Mamba village and if you are brave enough you stand a chance of holding them with your own hands with an open chance of photographic experiences.

So, if by any chance you missed adding Nairobi National Park to your itinerary, we have given you the main reasons you should reconsider adding it, imagine a national in the heart of a city with all the wildlife game, birds and stunning sceneries, for any bookings or more inquiries call us on +254-713510387 or send us an email to booking@tristarafricaskimmersafaris.com and we will be overwhelmingly grateful to organize for you a memorable trip here.