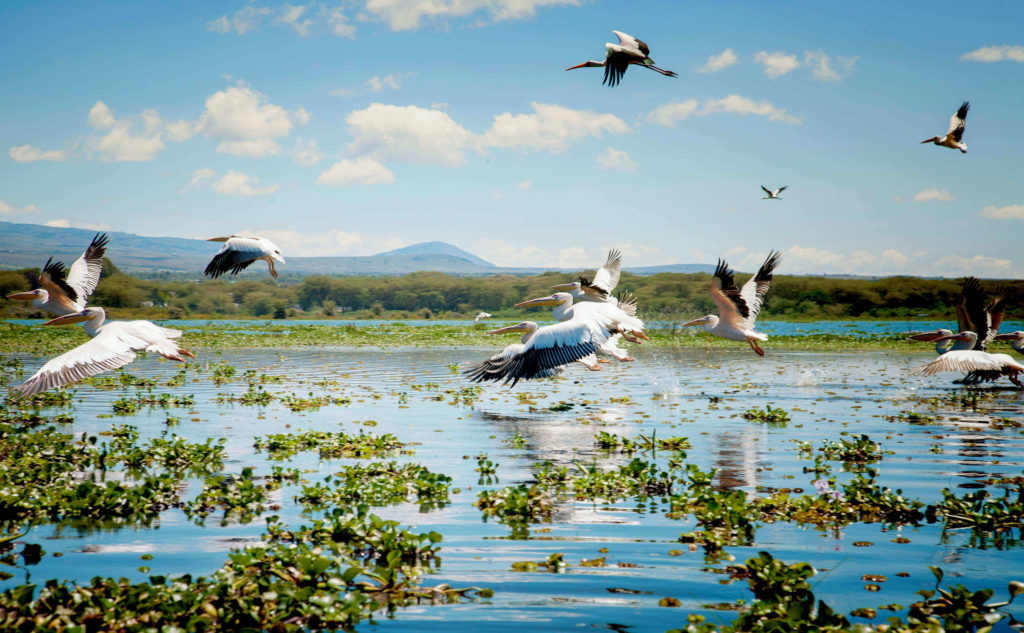 The rift valley area of Kenya hosts eight lakes and two of them are freshwater lakes (Baringo and Naivasha) and the rest and alkaline in nature. The Rift Valley Lakes are simply a bunch of lakes within the East African Rift Valley flowing from Tanzania northwards as part of the Gregory Rift in Kenya to Ethiopia in the north making up the African Great Lakes.

The following are the eight lakes along the Rift Valley area;

Lake Turkana
It measures 250 kilometers long at the Northern end of the rift in the Turkana region and it is the deepest of all these lakes measuring a depth of 410 feet with waters rich in blue-green algae feeding insect larvae and lesser flamingoes among others.

Lake Logipi
A saline and alkaline lake at the north end of the Suguta valley divided from Lake Turkana by the barrier volcanic complex with a depth of 3-5 meters, width of about 6km and length at 3km containing sodium bicarbonate waters.

Lake Baringo
This lake gets its waters from rivers like Molo, Perkerra and Ol Arabel situated on the extreme northern frontier of Kenya covering area of up to 130 square kilometers and elevation of 3,180 feet. It is one of the freshwater lakes along with Lake Naivasha hosting about 470 bird species including frequent visitors like the flamingoes.

Lake Bogoria
Located on the southern part of Lake Baringo, this lake is also saline, alkaline in nature hosting one of the largest lesser flamingo gatherings and Lake Bogoria National Reserve in existence since 1974 in Baringo estimated to be 34km in length and width of 3.5 km. Other attractions are Kesubo Swamp, Siracho Escarpment housed by the game reserve.

Lake Nakuru
This is a soda lake existing on the southern part of Nakuru town in the western part of Kenya elevated at 1,754 meters hosting an enormous group of pink flamingoes always invited by the vast algae that exists on the lake. This is where you find Nakuru National Park which was created in 1961 to house the lake and the wildlife that exists here in abundance.

Lake Elementeita
Located on the northwestern side of Nairobi, this soda lake hosts an estimated total of 400 bird species with non-resident flamingoes and tilapia fish brought from Lake Magadi in 1962 and along the shore, visitors can view warthogs, eland, zebras and gazelles.

Lake Naivasha
It is a non-alkaline lake with freshwaters on the Northwestern side of Nairobi in Nakuru County in a town of Naivasha hosting a reasonable number of hippos and over 400 bird species with a Crater Lake Game Sanctuary in close proximity. This area has attracted European Settlements and the Lake Naivasha is accompanied by other two lakes that include Oloiden and Sonachi which is a green crater lake.

Lake Magadi
It has produces at least 250,000 metric tonnes of sodium carbonate annually for at least 100 years located in the far south with volcanic rocks amidst it north of Tanzania's Lake Natron. This lake is 80% covered up by soda when there is drought feeding dozens of wading birds and flamingoes.

The lake is about 100 square kilometers large, saline and alkaline in nature and you won't believe there is only one fish species that survives in this lake and its hot and overly alkaline waters- acichlid alcolapia graham. Here you find a soda plant and a soda train.

Activities within the Rift Valley Lakes
There are several activities to keep you company while to you in this water logged strip of Kenya and they include the following:

Game Drives
While in Nakuru, game drives are very possible in Nakuru National Park in search for wildlife like the zebras, rhinoceros, leopards, lions, hyenas, elephants and hippos among many other wildlife with organized games viewing durations in the morning, full day and afternoon sessions.

Bird Watching
The abundance of different bird species here makes it one of the best birding destinations in Kenya with dozens of the flamingoes flooding the lakeshores of all the eight lakes. Other bird species commonly spotted are the African fish eagle, the herons, pelicans, Egrets, Storks, Ibises, Crested cranes, Ducks, Plovers and Kingfishers among other species.

Guided nature Walks
Experience the rift valleys landscape, swamps, wildlife, rivers and the lakes on foot accompanied by a knowledgeable guide as you engage in picturesque moments. This interaction between the visitors and the surrounding nature is the perfect way to refresh your mind after the busy working days of the week.

So, if you are looking for a perfect holiday destination in Kenya, the rift valley province is the ideal place with a refreshing atmosphere and thousands of the wildlife so simply call us today on +254-713510387 or send us an email to booking@tristarafricaskimmersafaris.com for inquiries or bookings.